Views
Govs. Uzodinma, Okorocha: A Miscellany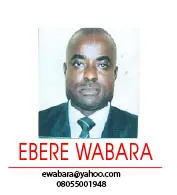 For those who may not know, Senator (Owelle) Rochas Okorocha was governor of Imo State not long ago, while Senator Hope Uzodinma succeeded Hon. Emeka Ihedioha as the incumbent governor of the state, following an epochal Supreme Court declaration that removed Ihedioha.
Last month, Okorocha, in his serial critical attacks on Gov. Uzodinma asserted that the present Imo State government was battling for public acceptance! What acceptance, how and where? I find this unwarranted and unverifiable assertion ludicrous and laughable on grounds of its irrationality and tactical diversionary dubiety.
To begin with, the question of public acceptability or not does not arise in all circumstantial underpinnings and by any extrapolative consideration. The apex court in its wisdom incontrovertibly affirmed that Senator Uzodinma was duly elected as the governor of Imo State. All the ensuing needless controversies and debates are credentials of a scholastic exercise that borders on sheer intellectualism that can never be formally interrogated or reversed by this generation.
On October 6, this year, Okorocha averred again that Gov. Uzodinma was embattled by credibility crisis and consequently neck-deep in the struggle for public acceptability. This novel avowal has never been a component of our electoral architecture. Elections are held and a few losers take their appeals through institutional structures for the resolution of any perceived poll infringement on their mandate. Most of the cases, of course, terminate at the Supreme Court with an irrevocable finality. In the instant Imo debacle, the apex court affirmed that it cannot reverse itself.
Therefore, for anyone to be talking of "credibility and public acceptance" is tantamount to pouring water on a stone or using a basket to fetch water! Such indulgence is clearly a travesty of the hallowed ultimate court in the country! Elsewhere, nobody jokes around with the judgments of the equivalence of our own Supreme Court. Long before now, it was unheard of that anyone would criticize, fault or poke at judgments handed down by the apex court. Our values generally and charlatanistic politicking have really bastardized our existential essence.
Okorocha's grouse about Uzodinma and angst against his government is catalyzed by the N106 billion fraud indictment by the Justice Benjamin Iheaka-led panel probing contracts awarded during Okorocha's eight-year tenure.
The panel had demanded that the former governor should refund the money in question. Nobody in Okorocha's shoes would have kept quiet in the face of the allegations that border largely on integrity, but Okorcha's response is like playing to the gallery and pulling the wool over the eyes of ignoramuses. It is simply a diversionary tactic usually employed in kamikaze warfare in pursuance of terror balance.
If I were Okorocha, instead of making staccato responses to the probe panel report, I would get my lawyers to study the document and thereafter issue a comprehensive statement that should represent my stance on the matter fully. And if need be, I can go to court to absolve myself of any indictment instead of the current circus show that does not clinically address anything, but trivializes everything.
For instance, the government accused the former governor of awarding fictitious contracts. I expect that Okorocha (or operatives during his governorship misadventure) should have papers pertaining to such humongous contracts detailing the scope, contractors involved and jobs executed, if any. If these details are available, there would be no acrimonious exchanges by both parties, but harmonization of aspects of the contracts, while differences could be sorted out without viciousness, dancing naked in the market and unnecessary litigation.
I have embarrassingly found out that it is only in the South East that serving governors and their predecessors in office engage in perpetual brickbats over tenures and related issues. In other parts of the country, you hardly hear or read such things as are bitterly celebrated by their colleagues in my geopolitical zone. And unfortunately, too, our few surviving leaders who can intervene in such matters have all been compromised because of strangulating poverty and character weakness. Here, stomach infrastructure holds sway—to the detriment of any other thing!
By way of deepening this conversation, it is apposite we recall the former governor's reaction to the incumbent governor's comment that birthed Okorocha's latest submissions and descent on Uzodinma: "In his independence day speech, the governor said that he inherited systematic fraudulent system from Ihedioha. Two days after, he said that Okorocha should refund N106 billion. We challenge the government in Imo, Ied by Senator Hope Uzodinma to publish the Iheaka report verbatim so that Imo people in particular and Nigerians in general, could read the report and see how the panel arrived at N106 billion, which they said that Senator Okorocha should refund."
"No serious panel would have made such recommendation. It could only take a 'Ben Johnson' panel to do that. And let the government publish the list of contractors who handled contracts under Okorocha, state the contracts they did, how much they were paid respectively, how they were paid and what they should have been paid, in the estimation of the panel members.
"Governor Uzodinma should explain what he has done with the N119 billion he has collected from the federation account and N6.4 billion ISOPADEC fund vis-à-vis the IGR."
As it stands from the foregoing, anything Okorocha says now will amount to blowing hot air in a futile attempt to distract the incumbent governor. There should be other ways of sorting out the throw-ups instead of the intermittent show of disregard to the constituted authority of Gov. Uzodinma. Whether anyone likes the circumstances of his emergence as governor or not is irrelevant to the present realities. The only time his authority will be challenged is the next governorship poll. For now, his hypercritics should sheathe their swords and wait for the next opportunity to either remove him or his mandate revalidated by his supporters—it is a two-way game that does not call for opprobrious indulgence.
As for making the panel report public, Okorocha should know that the voluminously documented proofs may end up with the Economic and Financial Crimes Commission (EFCC) for further interrogation, investigation and prosecution, possibly. So, it may not necessarily be an administrative delay, but a deliberate strategy for optimal governmental accomplishment.
While all these matters subsist, if Okorocha cannot regard the incumbent governor for whatever reason, he should, at least, show some decorum, maturity and respect for the office—more especially as a former maverick governor and now a miraculous senator.
It is well with my sister-state.