Today's News
Uzodinma accuses Imo civil servants of his administration's failure to pay salaries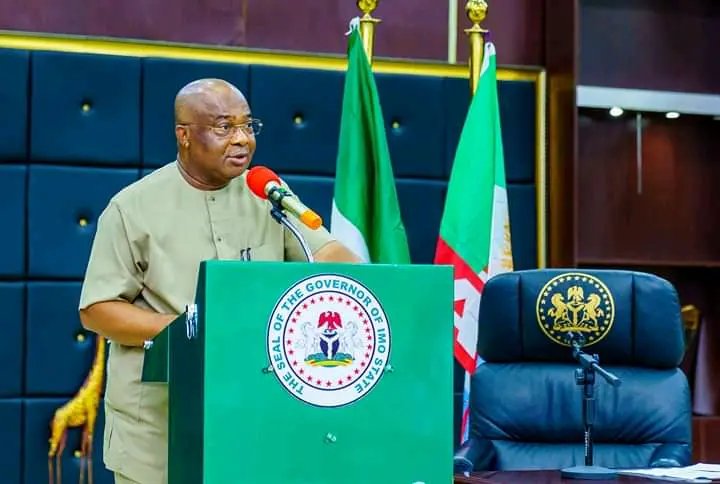 Imo State Governor, Senator Hope Uzodimma has said, on assumption of office, he met neglected and abandoned civil servants who had lost hope in the system.
The governor made this assertion while responding to the national leadership of the Nigeria Labour Congress (NLC) who called on him at the Government House, Owerri, over the issues of salary and pension discrepancies in the state.
He insisted that all verified and automated workers and pensioners in the state were being paid, as and when due, that those who have not been paid are those who have one issue or the other which are being resolved.
He accused civil servants of being architects of the problems in the salary payment system where account department pad salaries for themselves and others, from who they collect kickbacks.
He denied staggering and underpayment of salaries and also denied the allegation of using consultants to pay salaries, saying he rather disbanded the consultant being used by his predecessor and made it clear that what he did was to establish a data centre which is housed at the former office of the first lady and being managed by recruited and trained Imo sons and daughters.
The governor insisted that payment of salaries in the new world order both by governmnet and the private sector all over the world is through the Information Technology (IT) which he said his government was bent on following. He said it was the idea that brought about the automation of the salary payment system of the state.
Earlier the Vice President national leadership of NLC, led by Comrade Benson Jack, had told the governor that they were in the state to dialogue with him on some critical issues affecting workers in the state and to find a lasting solution to them.
They listed some of the challenges to include; staggering/irregular payment of salaries and pensions, underpayment of salaries and pensions, withholding check-off dues.
Others are; Non approval/ implementation of promotions, non implementation of annual incremental rates, non remittance of governmnet part of the contributory pension scheme at Imo State University.
Also the national labour leaders frowned at the indiscriminate retaining of retiring civil servants which they noted was becoming a tradition in the state, thereby choking up the system and not allowing the young ones to get opportunities in the civil service. They demanded immediate implementation of the N30, 000 minimum wage and reversal of payment of salaries through consultants, return of payment of salaries and pensions to the office of the Accountant General, under the supervision of the office of the Head of Service, among others.