Today's News
Again, former Imo Deputy Governor Madumere remarries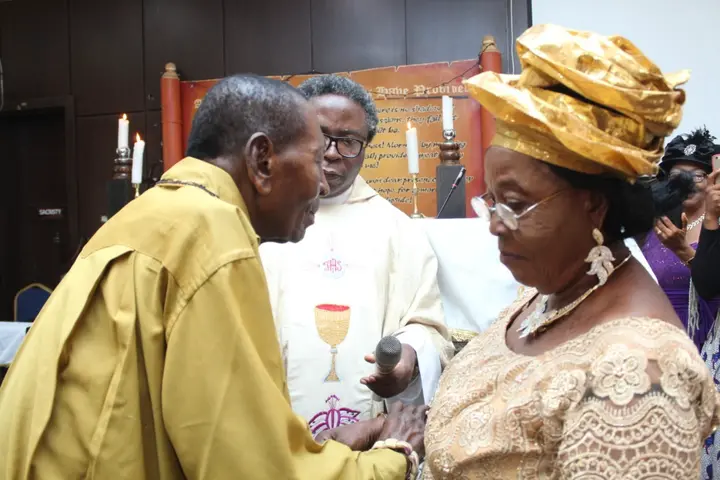 The two love birds could not help gluing to each other, guessing into each other's faces and beaming with smiles as the jubilant congregation in appreciation raised their voices to the crescendo singing praises to God for making possible such a memorable day in the lives of Eze Madumere and his Queen.
As the bell of procession rang in the Chapel of Praise with every congregant seated, the atmosphere surely gave it away that there was something very special happening at the Chapel of Praise Anglican Communion Church in Lake Malinda, which sits between Ezi-Mbieri and Ogwa-Mbieri, Mbaitoli local government area of Imo State.
The vicar, Venerable Sunday Iheruo was also prepared for the great wedding of the bride and the bridegroom. His cassock was alluring immaculate, depicting the miniature of the heavenly purity.
During his sermon titled "Are You Prepared for The Lord" Iheruo called on the people to change their ways and lead a good life that will give glory to God.
He took the scriptural reading from Zephaniah, chapter 1:14 to 28. He bemoaned man's lackadaisical attitude of human beings towards the word of God, warning about the dire consequences for those who work in the way of iniquity.
During the blessing of the marriage anniversary of over 61 years between His Royal Highness, Eze Madumere and his Ugoeze, Malinda Madumere, he blessed God for keeping them together and for the accomplishments in the family.
The two love birds were taken through the Anglican tradition as they reassure each other 'to live for each other, to continue to hold and cherish each other till death do us part.'
Iheruo used the opportunity to pray for God's manifold blessings upon Madumere family, urging God to grant them His mercies and grace even as they live longer. He also prayed for their children.
During the thanksgiving service, Ugoeze Malinda Madumere even at 79 couldn't spare any moment as she danced so flexibly that the younger ladies were left in utter admiration.
She said: "This day I will ever live to cherish all the days of my life. For God has held us together even in turbulent weather and in stormy waters. I am happy for this day. This is the man I love and he is my master who I will always submit to even at our blessed age.
Speaking, HRH, Eze Madumere said: "I have seen patience but I have not seen such a virtue like that of my lovely wife.
"In my youthful days, I was that hyperactive as expected of a young man who worked hard and succeeded in his business. Malinda would rather not say a word. She is what a virtuous woman should be.
"The Lord blessed me with 7 children through Malinda and they are all standing today to the glory of God. When I look back, all I can say is thank you Lord."
The event though not publicised witnessed the presence of community leaders, friends, associates and well-wishers who came to cheer the Madumere's up.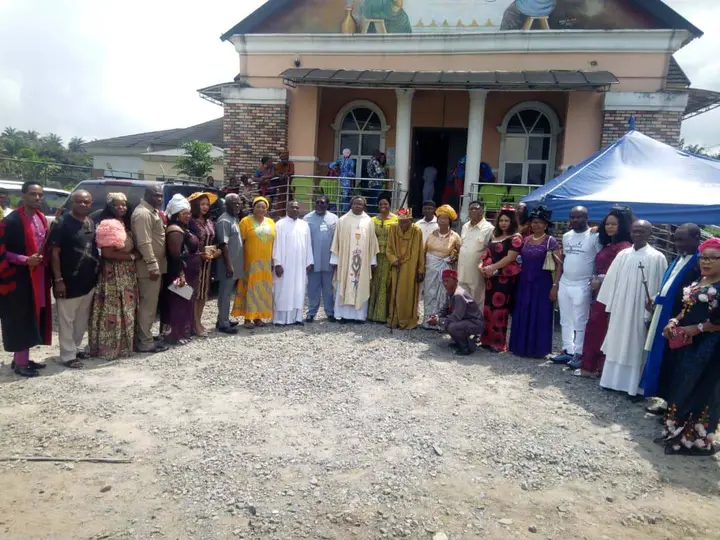 The chapel was filled with outside canopies also fully occupied by congregants and guests of the Madumere's.
At the end of the church service, the first son and first child of Eze Madumere, Prince Chijioke Madumere thanked everyone who had come to celebrate with the family, praying God to grant them the desires of their heart.
The former Deputy Governor of Imo State, Prince Eze Madumere also thanked friends of the family and extended family members who heard from other sources and came on their own to be with the family.
"I am personally happy seeing you all. It is because of the love you have for us that you have come to identify with our parents who are celebrating over 60 years in marriage.
"This is the day the Lord has made and we shall continue to be glad in it. I am most grateful to God for the life of my parents. As they once again celebrate their togetherness of over 60 years, I pray God for longer life with good health.
"I also pray God to meet you at the point of needs and may you also have causes to celebrate."
Princess Chioma Madumere, wife of the former Deputy Governor was seen tirelessly attending to people, ensuring that everything was in right place for the guests not minding her beautifully blessed condition.
Grand children were all milling around, swirling around their celebrating grannies as they sang and danced, giving glory to God for their grannies who have continued to help to nurture then, exposing them to the folk ways and traditions of their people.
The women groups were adorned in traditional attire as they filed out singing traditional tunes at the Eze's palace.
The event was garnished with the cutting of Cake, which took place in the King's palace in Achi-Mbieri, in Ezi-Mbieri autonomous community, Mbaitoli local government area of Imo State.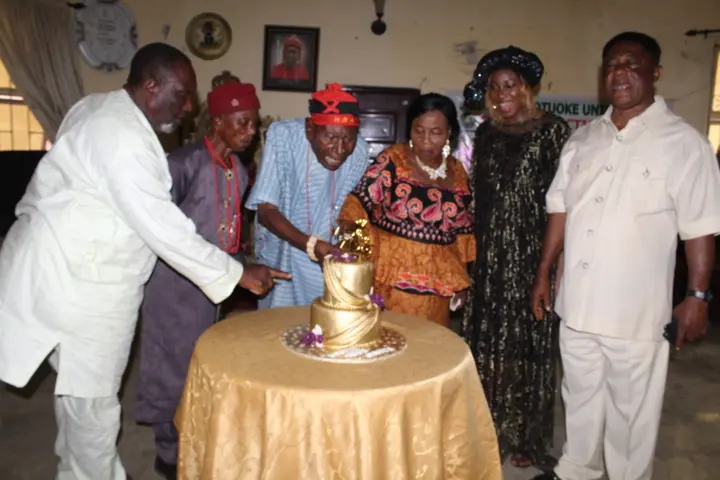 The saying that the older the wine, the better can be likened to marriage that has withstood the test of time. Passing through the furnace and threading through the crooked and thorny path can only make a farce, except there is a motivating factor. That inspiring factor is love. That is the love story of HRH Eze Madumere and his lovely Ugoeze, Malinda Madumere.