National Politics
Buhari Saw Me, Screamed, And My Problems Started – Zainab Buba-Galadima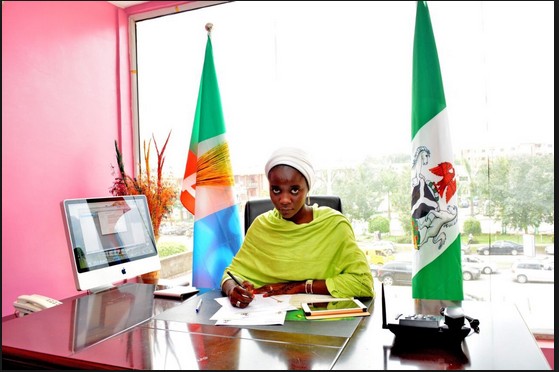 By Chuks Ekpeneru
Zainab Buba-Galadima, daughter of Peoples Democratic Party, PDP chieftain has opened up on her experience in the Muhammadu Buhari administration where she served as a technical aide in the office of Vice-President Yemi Osinbajo.
Ms. Buba-Galadima who is now presently unemployed despite having seven degrees said she worked in the first cabinet and was denied a salary for all the time she worked partly on account of her father's discord with the president. She, however, said that several efforts were made to cut her away including moving her away from her area of competence.
She said she, however, remains cordial with the First Family having becoming family friends for life before the return of the Buhari family to the seat of power.
Ms. Buba-Galadima who remains a member of the All Progressives Congress, APC in the interview with Daily Trust spoke of repeated intellectual engagements with her father on politics. She, however, admitted in the interview that the Buhari administration had failed in delivering all the expectations of the public as she especially faulted a disconnect between the administration and the public.
Her father, Buba Galadima, a facilitator of the now defunct, The Buhari Organisation, TBO was one of the few who stood by Buhari in his presidential runs between 2003 and 2011. Galadima according to the daughter moved on to support Rabiu Kwankwanso after Buhari initially declined to contest in 2015, a development that led to the fracture of the TBO.
Ms. Buba-Galadima who worked in the office of the vice-president between 2017 and 2019 after serving as a councillor the FCT when asked if she ever told Prof. Yemi Osinbajo that she was not being paid, said:
"Yes, several times. He would instruct that the situation be addressed, but immediately I stepped out, nothing would be done. But he (Osinbajo) and everybody knew."
Noting her personal relationship with the Buhari family, she said:
"The wives and children have a very good relationship, but obviously, they are in power, so we do not go to visit them unless we are invited.
"But we are friends for life, and no matter how long they would be there, they would still meet us outside. That is the relationship. I have a very good relationship with the daughters; I go to their houses and they come to mine.
On whether she ever related with the president while in the Presidential Villa, she said:
"No, they never allowed it. There was a day the president saw me from afar and screamed my name to come; and they were all surprised because ordinarily, he would not stop for anyone. He stopped to ask if I was okay. I believe that was the beginning of my problem.
"They interpreted it to mean that if I were given a free rein with the president, it would be over for them. This is how the people on the corridors of power think. Everybody is trying to pull somebody down. You will hardly find somebody that would help you up. That was the beginning of my challenge."
Asked if Buhari was in charge of his administration, she said:
"I was not in the office of the president, so I don't know. And don't forget that they see me as a daughter of an enemy. I wasn't privy to so many situations. There was a certain place I could not cross over to.
"But people are in charge of what they are in charge of and I believe that there are things some people do that he is not aware of. They take some decisions that he is not aware of. I don't think it is everything they let him preside over."
On her circumstances presently, she said:
"Yes. I have seven degrees but no job. I have tried to look for a job, but nobody wants to give me. I believe that I am harmless but some people see me as a threat, especially being a northerner, a woman, a Muslim, educated and a daughter of Buba Galadima. Not even that, even if I look for a contract, they would not give me."