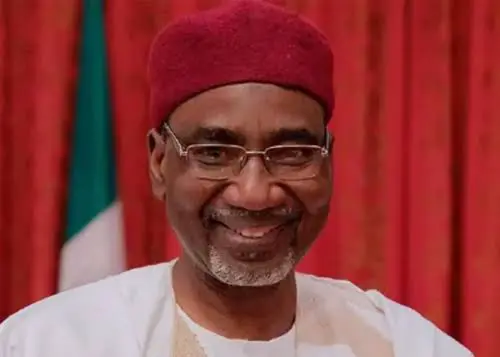 The immediate past acting Director-General of the Nigerian Intelligence Agency (NIA) Ambassador Mohammed Dauda has disclosed that he was sacked for failing to pay head of the President Muhammadu Buhari-appointed review panel on the National Intelligence Agency (NIA), Ambassador Babagana Kingibe $2 million as bribe.
Dauda alleged that Kingibe, a former foreign affairs minister and Secretary to the Government of the Federation, (SGF), had, aside several monetary demands, pointedly asked him to pay the $2 million as protection money which they called "handshake" to be confirmed as substantive DG,  or be kicked out of office.
According to Dauda, when he failed to accede to Kingibe's demands, which included sidelining the National Security Adviser (NSA), retired Major-General Babagana Monguno, as well as draw huge sums of money, Kingibe ensured that the man who was his secretary at the panel, Ahmed Rufai Abubakar, displaced him as NIA boss.
The revelations formed part of a petition Dauda sent the House of Representatives' Committee on Security and Intelligence on the NIA $44m Intervention Fund, exclusively obtained by Pointblanknews.com.
The former NIA boss raised the alarm that but for his last minute decision to move the $44 million to the NSA's office, Kingibe and Abubakar would have looted the entire money.
Dauda claimed that his life was in danger, and begged the House of Representatives to guarantee his personal safety.
"I wish to appeal to the relevant authorities to consider providing me immediate protection as my security, livelihood and rights are being threatened by the aforementioned," he wrote.
He penned that the Foreign Affairs Ministry had recalled him from Chad where he served as the Nigerian ambassador there, and resumed work as the acting DG of the intelligence agency.
Upon returning to Abuja, noted Dauda, he with the now late Chief of Staff to President Muhammed Buhari, Mallam Abba Kyari.
"From the Villa, I proceeded to the NIA where I met the retiring acting DG, NIA, Amb. Arab Yadam whom I knew very well as a senior colleague", he narrated.
According to Amb. Dauda, the retiring DG briefed him on the agency's operations, and her finances, including $44 million left of the controversial intervention fund scandal called Ikoyigate.
Dauda said his ordeal began shortly after President Muhammadu Buhari appointed a panel to review activities of the NIA after huge sums of money believed to be the agency's were found in an apartment in Ikoyi, Lagos. The panel was headed by Kingibe.The panel was headed by a former Secretary to the Government of the Federation (SGF), Ambassador Babagana Kingibe.
"We provided them (Kingibe panel) with office accommodation, transport, food, and other logistics throughout the six weeks they stayed with us", noted Dauda, stressing that hotel accommodation was given such non-Abuja resident members of the panel as Chief Albert Horsfall and Amb. Olaniyu Olajide.
Ahmed Rufai Abubakar, who served as the panel's secretary, was to later succeed Dauda in what appeared a palace coup.
After the inaugural meeting with the panel, Amb. Kingibe, said Dauda, privately advised him to " cooperate" with the panel, and that their report would be favourable so long as Dauda avoided dealing with the National Security Adviser (NSA), Major-General Babagana Mongonu (rtd).
"I was instructed to channel all our activities, contacts, concerns and complaints through the Office of the Chief of Staff only," wrote Dauda, however adding that "I was not too comfortable with these new set of rules and regulations that apparently contradicts all the provisions of our instruments".
He continued, "Some members began putting a lot of pressure on me by constantly demanding cash ceaselessly." Dauda listed Amb. Kingibe and the current DG of the agency Ahmed Rufai Abubakar as two members of the presidential committee who were notorious for traumatizing him with incessant demand for US dollars.
"When I tried to explain to them that our US dollar account was low due to the problem associated with sourcing forex from the Central Bank due to the Ikoyigate scandal, they would point out that the $44 million in our account was still our money that could be spent", he wrote.
Aside collecting various sums of money under the guise of holidaying and medical treatment abroad, Dauda said Kingibe and Abubakar also formed the habit of blackmailing him into giving various sums of money in foreign currencies to their girlfriends.
He cited two instances where Kingibe ordered a certain Angela to meet him at the car park of the Abuja Hilton hotel to collect $50,000 and $20,000, a gesture he said "apparently didn't impress Kingibe".
The former NIA boss stated that the sordid events led him to report to the Economic and Financial Crimes Commission (EFCC).
A day after reporting to the EFCC, he revealed, a letter came from his successor demanding him to return his official vehicle.
He added that another letter followed directing him not to leave Abuja without "clearance".
Dauda lamented that the moves were "meant to cow and intimidate me into submission" adding that Kingibe and his successor were planning to forcefully eject him from his official quarters, as well as withdraw his security details.