Today's News
Why Afenifere, Others Allege Kankara Abduction Was Staged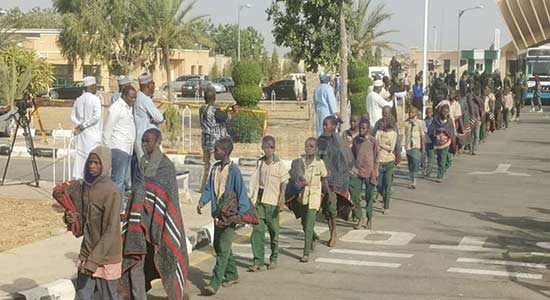 By Chuks Ekpeneru
The Pan-Yoruba socio-political organisation, Afenifere described recent abduction and rescue of the Kankara school boys in Katsina State by bandits as a joke.
The group made the claim in a statement by its National publicity secretary, Yinka Odumakin.
Similarly, former Minister of Education, Oby Ezekwesili, speaking on Channels Television alleged that President Muhammadu Buhari administration, created the abduction of over 300 schoolboys.
She lamented that to stage manage the abduction, the children were put in harm's way.
"Maybe the President sent the children on an excursion to terrorists so they can release children at will to him.
"He needs to tell us exactly what happened with the Kankara kids. There is a problem. This country should not be taken for a ride by President Buhari and his government. This is very unbecoming and the whole world is laughing at us.
Minister of Information and Culture, Alhaji Lai Mohammed, however described these insinuations as senseless.
Nigerians who doubt the claim of the government recall that picture of Governor Aminu Masari, with bandits wielding AK 47 went viral negotiating over a peace deal.
Masari had engaged the bandits at Katsina Government House to beg them to stop the killings.
Another reason for doubt is the frequent statement credited to some government officials that Boko Haram activities have been downgraded despite the continued killing of innocent Nigerians.
Some also question how possible it is to pick up the 344 students from the school and drive them into the bush without any security interception.
Nigerians may also have been alarmed at disagreement on role of Miyetti Allah Cattle Breeders Association (MACBAN) and the Miyetti Allah Kautal Hore in the rescue of the boys.
While Governor Masari claimed that government entered into negotiations with the abductors through MACBAN, the body had however denied the claim, fuelling more suspicion.
National Secretary of MACBAN, Baba Othman Ngelzarma, said that the national leadership of the group knew nothing about such negotiation.
"Unless the governor was discussing with the Katsina State branch of the association, but definitely not with the national leadership," Saturday Sun quoted Ngelzarma to have said.
Similarly, the Miyetti Allah Kautal Hore also denied being approached by the Katsina state government.
National President of the group, Bello Abduallahi Bodejo, said, "We don't know the bandits and we don't want to know them and we don't have anything to do with them. No member of Miyetti Allah Kautal Hore even at local levels knows the bandits.
Just as the 2014 kidnap of the Chibok girls, Nigerians may not know what really took place in Kankara.