Today's News
Video: Extradite Nnamdi Kanu to answer for his crimes now – Group tells FG
A civil society group, Movement Against Dissidents in Nigeria, have come out to condemn the activities of Mazi Nnamdi Kanu, the leader of the proscribed Biafra Separatist group, Indigenous People of Biafra IPOB.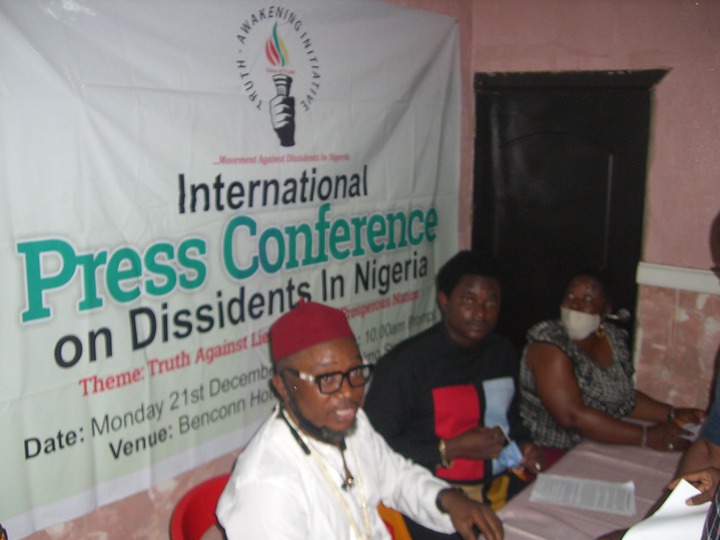 Addressing the newsman during a press conference held in Owerri today, the co-convener of the group, Amb. Obinna Osita accused Kanu of being responsible for the death of over 28,000 Igbo youths, who have been killed for obeying his orders.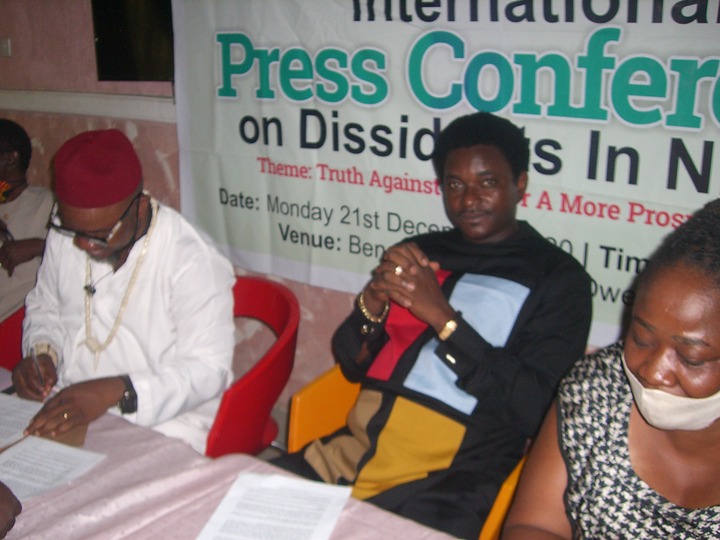 Osita further blamed Kanu for over 30,000 Igbo youths languishing in various correctional centres (prisons) in Nigeria, as a result if violence against civil obedience.
Osita accused Nnamdi Kanu of creating 30,000 widows in the South East as well as rendering the old fathers and mothers childless.
In a press release made available to Maazi Online, Osita claimed that Ndigbo had investments in excess of $500billion in Northern Nigeria, and over $1trillion in investments in the South West, and accused Nnamdi Kanu of putting them at risk.
He asked Nnamdi Kanu to show the Armoured tanks, aircraft and water craft he wanted to use in liberating Biafra.
Amb. Osita called on the Federal Government to deploy every legal means available, to extradite Nnamdi Kanu.
Osita went further to solicit for employment opportunities in the South East, as a way to checkmate Nnamdi Kanu.
The full text of the release made available to Maazi Online reads as follows. Also find video below;
WORLD PRESS CONFERENCE ON DISSIDENTS & SOCIAL UNREST BY MOVEMENT AGAINST DISSIDENTS IN NIGERIA.
Ladies and Gentlemen of the Press, we have just emerged from our in house deliberations on the disturbing issues surrounding the IPOB and it's antics by their leader Mazi Nnamdi Kanu. These issues have continued to paint the South East and Ndigbo in very negative light. We are perturbed that if nothing is done to checkmate and nip in the bud his continuous utterances, especially as they affect Nigeria, the country's image would not only be rubbished, but will be considered as an ungovernable sovereign Nation.
We have therefore decided to tell the world the true position of Ndigbo vis-a-vis his daily negative outbursts against Nigeria and highlight some of their lies and attacks against Igbo leaders, leaders of other ethnic nationalities and our dear nation. We also wish to highlight some of the dire consequences that Nnamdi Kanu's unbridled antics have caused Ndigbo- particularly our youths:viz
1) Nnamdi Kanu's constant reference to Nigeria as a Zoo, depicts an animal kingdom presided over by humans with debased brains, if allowed to stand, means that we are animals in a zoo. This is highly despicable and indeed intolerable. A country that boasts of some of the best brains in the world, cannot be derided and ridiculed in this manner. We are humans, we aren't animals.
2) We make bold to say that Nnamdi Kanu's Radio Biafra stands as the most unconventional and controversial media in the world.The cultural pride of Africa's most populous Black nation is being daily rundown and castigated. A radio station is supposed to be a channel of sincere information, peace building and not hate and divisive games. We are out to address all the lies Kanu and his cohort's are putting out there, we wish to sincerely say that Kanu and his group does not in anyway represent the ancient people of Igbo land. The government should in all it's might tackle Kanu and his cohort's excesses in the best legal means possible. We are saying this, because we are getting tire of waiting for the needful to be done. All diplomatic means including Kanu's extradition back to Nigeria should be deployed to bring to a halt the activities of these dissidents.
3) The youths of the Igbo speaking areas of the South East, Delta and Rivers States are being indoctrinated and brainwashed such that they've lost their bearings and therefore carry out orders like Zombies- with dire consequences.
4) Nnamdi Kanu does not have the authority from Ndigbo and lacks the credibility to demand for a new Independent state of Biafra with the manner he goes about it. After extensive research, we must State here that our father and leader Dim Chukwuemeka Odumegwu Ojukwu counselled Ndigbo after the war, that the new Biafra henceforth must now reside in the minds and hearts of Ndigbo- since we have accepted to be part of the sovereign nation of Nigeria.
CONSEQUENCES OF NNAMDI KANU'S DESTRUCTIVE PROPAGANDA AMONG IGBO YOUTHS
i) Statistics show that 28,000 Igbo youths have been sent to their early graves, following the demented orders.
ii) 30,000 of Igbo youths are languishing in different correctional centres(Prisons) in Nigeria as a result of violence against civil obedience.
iii) IPOB has created 30,000 Igbo widows among our daughters- and still counting;
iv) He has rendered OLD FATHERS AND MOTHERS childless;
v) He has caused 45,000 children to drop out of school- having made them fatherless- no one to pay their school fees;
vi) IPOB has some set of reckless, gullible, ignorant and untrained minds called members. We must caution here that if these group of untrained and bigoted minds are encouraged by Nnamdi Kanu to carry assault riffles and other weapons and unleash them on Nigerians-gentlemen, we are doomed in this country with a new set of dangerous militia group in Eastern Nigeria.
The reason why we believe and insist that Nnamdi Kanu should be brought home to Nigeria to answer to the atrocities he has committed against Ndigbo, particularly Igbo youths.
THE BIGGER PICTURES:
Looking at the bigger picture,Ndigbo have invested over $500 billion dollars in the Northern part of our country and over $1 trillion dollars in the South West of Nigeria.Going by its leaders orders, Ndigbo could loose those heavy investments because of his antics and daily drums of war. More seriously,we ask him the following questions:
Where are the weapons needed to achieve your deceptive demonic hallucinations.Yes,we ask,where are the Armoured Tanks, Modern APC's, Helicopter Gunships, Supersonic fighter Jets,Frigates and other warships to liberate your Biafra.Who has recognized your Biafra among ECOWAS,AU,or UN:none?
You can't thrive in your kinsmen's blood to maintain your profligate lifestyle, and that entices you to shed more Igbo blood.
By this daily act of attacks and anger, you are the greatest enemy of Ala-Igbo. We say again that the brainwashing of Igbo youths must stop. It was your orders that brought about the MASSACRE at Obigbo, Enugu and other parts of Nigeria recently.You have created enough unwanted enemies for Ndigbo in Nigeria.The last order to his disciples during the recent #EndSars protests, was your worst antics: which almost resulted in an inter ethnic war between Ndigbo and our Yoruba brethren.Thank God for the maturity exhibited by the leadership of OHANEZE and AFENIFERE. So, we say again ENOUGH IS ENOUGH.
We are out to repel lies and confusion. We are worried about the lack of job for most brainwashed youth and even the repented youth. We are therefore set to negotiate for skill and vocational training, empowerment for a better society which if carried out would keep our youth very far away from unholy activities. We call on relevant federal ministries to partner with us and create jobs for our youth through skills training. We have started talks with solar electricity producing companies, PPE's producing companies for partnership for a better society. Soon we shall commence with the processes in other to save and bring back lost souls and the brainwashed.
Our youth are roaming the streets of Onitcha, Aba, Nnewi, Owerri, Enugu, Abakaliki, Obigbo with skills but no one to support them. These are the gullible set that must be provided with both capital and materials to start a new lease of life.
Our primary responsibility as an organization is to source of companies, public and private Institutions to partner with and deplete immediately the number of intending and willing tools due to lack of job.
Thank you distinguished Gentlemen and Women of the Press.
Signed: Obinna Osita