National Politics
These people are plotting to remove Buhari and replace him with Osinbajo – APC group alleges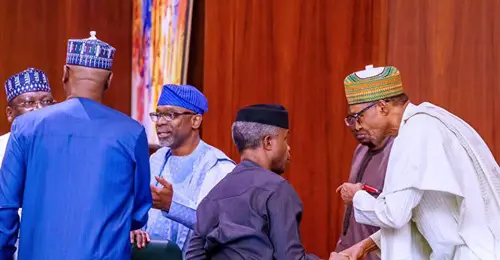 Members of the National Assembly (NASS) are reportedly planning to impeach President Muhammadu Buhari, a group has alleged.
Speaking through a statement on Monday, December 28, the group, Core All Progressives Congress Supporters Network (Co-APC-SuN), described the plots as "unacceptable, distasteful, offensive and condemnable."
It also called for the removal of the Senate president, Ahmad Lawan, who doubles as the chairman of the 9th NASS, The Sun reports.
The group, which spoke through its spokesman Alhaji Bala Abubakar, also vowed that it shall deploy the instruments at its disposal to closely monitor the political engagements of the Senate president.
It also called on the All Progressives Congress (APC), members of the APC in the NASS and others to be vigilant "in order to foil the attempt and should not be allowed to generate political crisis in Nigeria.