The Federal House of Representatives member representing Okigwe South, in the National Assembly, Hon. Chike Okafor, have come under the radar, over his recent relationship with Senator Hope Uzodinma, against his political mentor, Senator Rochas Okorocha.
A lot of political watchers in Imo State, have expressed their dissatisfaction, with the way Okafor dumped Okorocha, who brought him to political limelight, for Hope Uzodinma.
Many have expected to see Okafor standing side by side with Okorocha, like Ozb Ozuruigbo and others Okorocha took to the National Assembly.
But Okafor had initially been lukewarm, over the battle for supremacy between Okorocha and Uzodinma, but have seemingly pitched his tent fully with Uzodinma, against Okorocha, who is responsible for who Okafor had become today.
To many observers, they tag the behavior as inconsistent and ungrateful.
But Okorocha was not the first to know this side of Okafor, as former Govenror Dr. Ikedi Ohakim, was also said to have been betrayed by the former banker, who allegedly played both sides of the card, during the 2011 General Elections that produced Rochas Okorocha.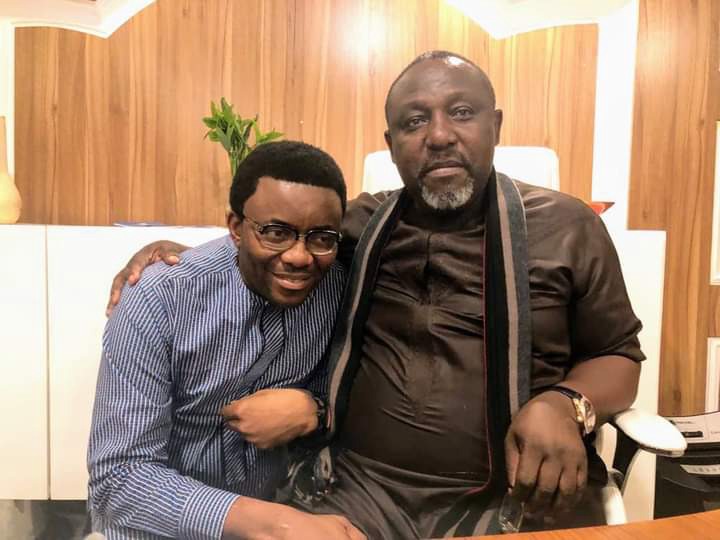 Some people close to him, are not surprised that Okafor would dump Okorocha, and join Hope Uzodinma.
Former APGA House of Assembly candidate, Hon. Peter Onu, was of the view that Chike Okafor was backing Uzodinma, because of allegations of corruption against him.
He made this known in a post on his Facebook page which reads as follows;
"U wont know why chike Okafor will not say anything against Hope uzodima.The governor is aware of their (corruption) case files.
The EFCC had already concluded their investigation on Rochas, chike okafor, and others.
I dont personally know what's delaying
their arraignment. I really dont know."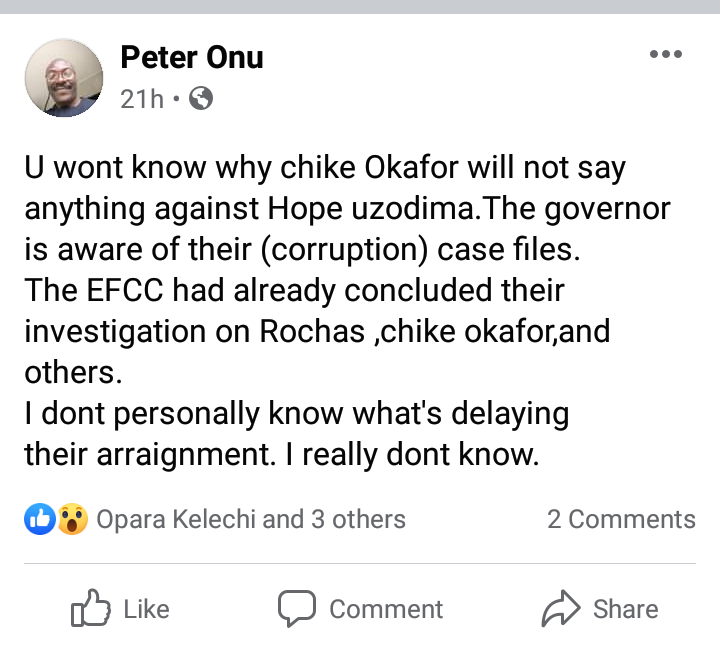 Okorocha had, during a meeting of his faction of the APC, called on Okafor to retrace his steps.
Okafor however had shunned Okorocha's call, and ignored functions or events where Okorocha would be present, instead attending and inviting Uzodinma to functions.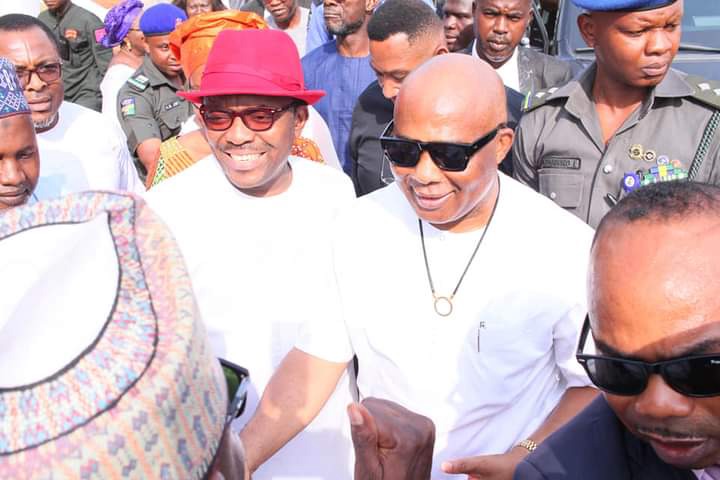 Interested parties in Imo State have wondered, if this change in Okafor, was borne out of fear for the EFCC and corruption charges, as alleged by Hon. Peter Onu, or whether Okafor was being a smart politican and moving with the moving train, which right now is Uzodinma. That was as he supposedly moved to Okorocha from Ohakim in 2011.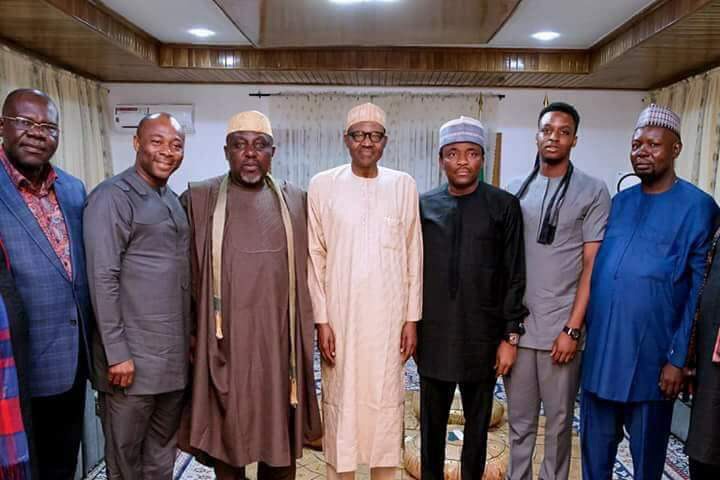 However, some people have traced his rejection of Okorocha, to the betrayal he allegedly suffered in the hands of Okorocha, when he was marketed to President Muhammadu Buhari, as Okorocha's successor, but was dumped for Uche Nwosu.
Analysts however wonder, if Okafor would not jump ship again to the next train, if the baton changes hands, affirming the claim at some quarters, of his inconsistency.