National Politics
Will APC Ever Learn From PDP, Anyanwu And Ihedioha's Example In Imo?
Will APC Ever Learn From PDP, Anyanwu, And Ihedioha's Example In Imo?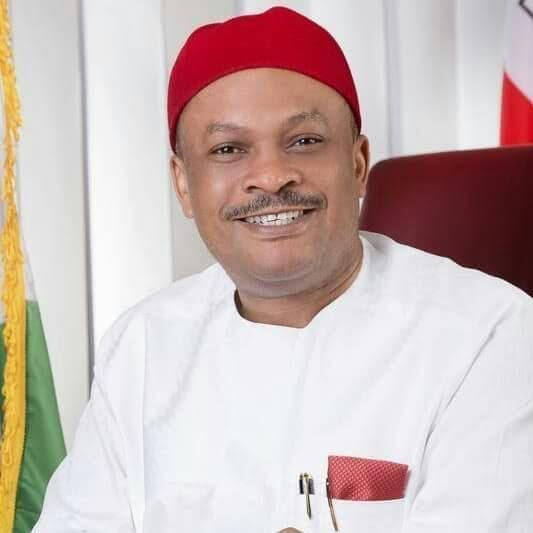 By Ikenna ONUOHA
As the peace and tranquillity of the society continue to be threatened under a severe, chaotic and cruel leadership of the ruling All Progressives Congress (APC) in Nigeria, reasonable citizens are beginning to ask whether it is a possibility for the party to live in peace.
Surprisingly today, both the rich and the poor are crying foul over a spilled milk and triggered by the APC government in the country.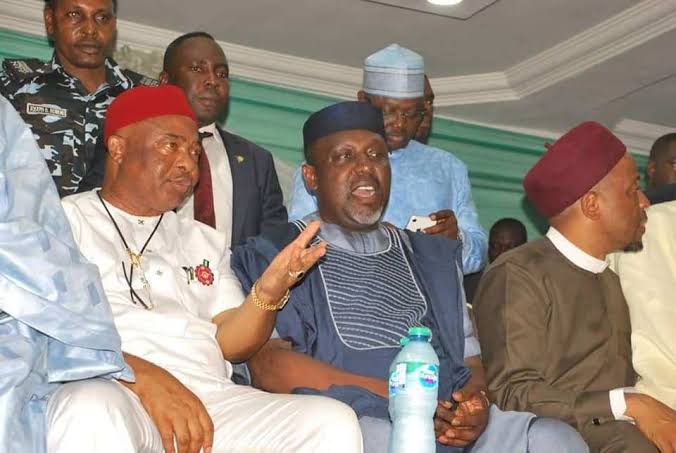 In the absence of peace and tranquillity, prices of goods and governance skyrocket to high heavens. No wonder virtually everything in the market has taken a new dimension at the detriment of the helpless Nigerians.
Sequel to this debilitating situations, curious minds are beginning to ask whether it is possible for APC to learn how to instill or live in peace from PDP, Senator Samuel Nnaemeka Anyanwu (SamDaddy) and the immediate past Governor of Imo State, Rt Hon Emeka Ihedioha.
It can be recalled that same measure of conflicts and crisis were witnessed in the PDP hitherto, but maturity, love, cooperation and respect to one another engineered lasting peace in the party.
One therefore wonders why the APC leaders have refused to embrace peace instead of hitting up and rising tension in the society in an environment the party is in power?
The people are saying that if APC in power and her leaders could create crisis in an already tensed environment, then what do they expect from the opposition PDP in the state?
It takes only maturity and humility for a person or government bereft of ideas, coordination and focus to approach more higher authority for tutelage, guardians and direction. But they have neither refused to seek external assistance nor agree to improve in the discharge of their functions.
Better still, it is never late for APC and her drivers to beckon on the PDP and her determined leaders as Senator Samuel Anyanwu and Rt Hon Emeka Ihedioha amongst others for administration direction and guardians since it appears that they have lost focus.
Obviously, one can tell a blind man that there is no oil in the soup but not the absence of salt in same dish. In Imo today and Nigeria at large, everything in the "soup" has become meaningless and tasteless due to ineptitude and leadership immaturity.
Imo people and Nigerians in general are living like orphans, no one can talk on any issue(s) that affect their surroundings without being waylaid or mesmerized. This is most unwholesome and condemnable.
It has become absolutely glaring that the image of the state has been severely battered by APC and her leaders. Reason for this avoidable debacle is yet to be ascertained and not far fetched.
When those elected to protect the masses and deliver dividends of democracy to the people abandon their constitutional duties and resort to crisis creation, the end must surely justify the means!
The questions are, when will APC learn from PDP? Will her leaders ever know when to cease fire? What are they benefiting from crisis generation? These and more, they have refused to answer!
No doubt, today Imo has become a desert of death, a jungle of battle and a theatre of war in the hands of APC and her drivers. How long shall we keep quiet and watch in utter consternation the ongoing debacle?
Shall we ever fight this unabated war with our Voters' card, bare hands or resort to weapon carrying? Is our continued patience or silence not eluding us? Which way is better for Imo? APC and her leaders should quickly furnish us with the answer!
From Okigwe, Orlu and Owerri zones, the message of war, violence and crisis is being preached. Worst of it, the people are beginning to assimilate the bad and purging messages, and it has started controlling and shaping their behaviors!
There is fire on the mounting if nothing is done urgently to nip this ugly trend in the bud. Which way Nigeria? Who has brought us into this unimaginable mess?
Predictably, Imo can still be better if only APC and her drivers can humble themselves and come back to the master in total sincerity that they have indeed failed, betrayed and duped the people.
Surely, Imo people can still listen to them and their restitutions but will NEVER allow them continue in governance owing to the fact that they lack the requisite knowledge to steer the ship of governance which they are not conversant with.
By so doing, we shall be expecting Imo of our collective dreams!https://om-firebase-notifications.